The all-new 2022 Hyundai Ioniq 5 comes with a powerful powertrain, impressive driving dynamics and a spacious and comfortable interior.
The Hyundai Ioniq 5 is a good SUV. It is a fast and powerful electric car with an excellent driving range of 300 miles (482 km) along with high efficiency also handling and agile ride quality that makes driving easy and fun
Inside, the Ionic 5 features a minimalist design, some might say understated, with two rows of spacious, supportive seats, plenty of cargo space, and easy-to-use technology features.
Anyone thinking of getting an electric car should give the Ionic 5 a look. It is one of the most almost electric SUVs and even at its above average price it still offers a lot of equipment for the money.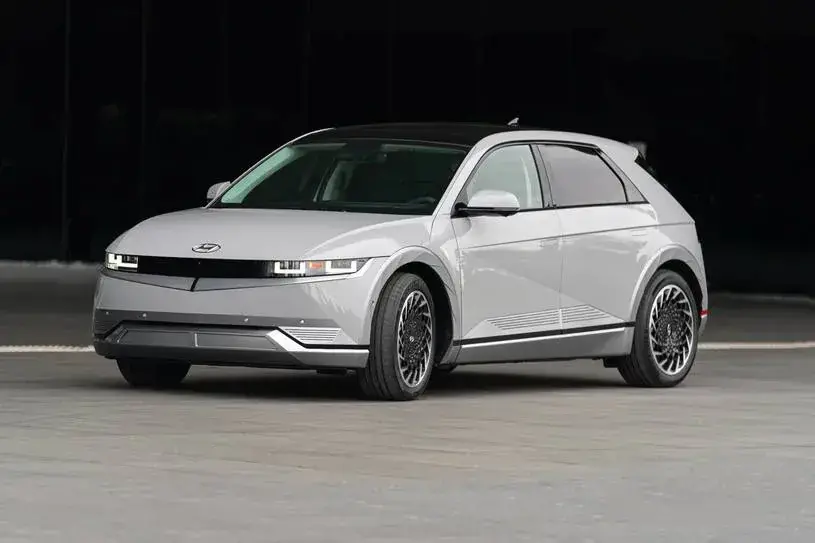 New Hyundai Ioniq 5 2022 specifications
Hyundai Ioniq 5 Rating
The 2022 Hyundai Ioniq 5 has not yet received the reliability score predicted by JD Power
Hyundai Ionic 5 Warranty
Hyundai covers the Ioniq 5 with a 5-year/60,000-mile limited warranty and a 10-year/100,000-mile powertrain warranty
2022 Hyundai Ioniq 5 Performance
Ioniq 5 Motor
Base powertrain: 168-kW electric motor with 225 horsepower and 258 pound-feet of torque
Available powertrain: dual electric motors with a combined 239-kW, 320 horsepower, and 446 pound-feet of torque
Drivetrain: standard rear-wheel drive; available all-wheel drive and Transmission: single-speed
2022 Hyundai Ioniq 5 Safety
Safety Features
Standard driver assistance features Rearview camera . Rear parking sensors . Rear cross traffic alert . Adaptive cruise control . Blind spot monitoring . Lane keep assist . Lane centering assist . Forward collision warning . Pedestrian detection . Forward automatic emergency braking . Traffic sign recognition . Driver drowsiness monitoring . Vehicle exit warning . Rear-seat reminder
Available driver assistance features Head-up display . Perpendicular park assist . Front parking sensors . Surround-view parking camera system
Hyundai Ioniq 5 2022 price
The price of the new 2022 Hyundai Ioniq 5 starts at $43,650 compared to all-electric SUVs like the Ford Mustang Mach-E at $42,895, Volkswagen ID.4 at $39.995 and Tesla Model Y at $58,990 so the base price for the Ioniq 5 isn't too steep. The more expensive Limited model comes at a price of $ 50,600 and the Hyundai Ioniq 5 2022 for sale as new in the Arab countries soon
Ionic 5 new trims
The 2022 Hyundai Ioniq 5 comes in three trims (SE, SEL and Limited), where all models have a single-speed transmission and are available with either rear-wheel drive or all-wheel drive. RWD models feature a 225-horsepower electric motor and have a driving range of 300 miles (482 km) and reach AWD models have a range of 269 miles (432 km) and feature twin electric motors with a combined output of 320 hp
Hyundai Ioniq 5 ( SE )
The sporty Ionic 5 SE is priced at $43,650 and there is also a RWD-only version of the SE known as the SE Standard Range that retails for $39,700. This model comes with all the same features as the SE but has a range that is 80 miles shorter and the upgrade comes to a dual-motor powertrain and all-wheel drive. At a cost of 3500 dollars
Standard features include cloth upholstery, electrically adjustable driver's seat, heated front seats, rear seat reminder, dual-zone automatic climate control, 12.3-inch digital instrument cluster, 12.3-inch touch screen, navigation, six-speaker stereo and HD radio Satellite radio, Bluetooth, USB ports, Android Auto and Apple CarPlay
Standard driver assistance features include a rearview camera, rear parking sensors, rear cross traffic alert, adaptive cruise control, blind spot monitoring, lane keep assist, lane-keeping assist, forward collision warning, pedestrian detection, and emergency braking. Automatic forward, traffic sign recognition, vehicle exit warning, driver drowsiness monitoring
Hyundai Ioniq 5 ( SEL )
The ionic 5 SEL starts at $45,900 plus features the base trim The SEL comes with faux leather upholstery, a heated steering wheel, hands-free power tailgate, front parking sensors, wireless device charging and an upgrade to the dual-motor powertrain costs All-wheel drive 3500 dollars
Hyundai Ioniq 5 (Limited)
Pricing for the Ionic 5 Limited starts at $50,600. Additional standard features on the Limited include power-adjustable passenger seat, ventilated front seats, panoramic sunroof, head-up display, parking camera system, perpendicular park assist, and an eight-speaker Bose stereo. Before, upgrading to a two-wheel drive and four-wheel drive would cost $3,900
Ionic 5 new colors
Hyundai Ioniq 5 2022 is available in the following exterior colors (Atlas White – Cyber Gray – Lucid Blue – Phantom Black)
Where Is Ioniq 5 Built ?
Hyundai builds Ioniq 5 in South Korea
2022 Hyundai Ioniq 5 Cons
Rear vision is somewhat weak
Rear storage is slightly smaller than average for the class
The cabin design is very simple
2022 Hyundai Ioniq 5 Pros
The dual-motor powertrain provides fast acceleration
User-friendly interior design
Spacious and comfortable seats
Intuitive technical features
2022 Hyundai Ioniq 5 Photos
(Click on the images to view in full size)