The new Kia EV6 2022 features a long driving range, good handling, many active safety systems, a luxurious cabin with comfortable seats but also a fairly small cargo space
The all-new Kia EV6 is a great choice in the fast-growing electric SUV segment. The EV6 offers an impressive driving range of 310 miles on a full charge and combines this long-term savings with agile acceleration and control and fast recharging.
The interior is well-decorated and there is an impressive amount of seating space in the front and rear. Kia also supplies the EV6 with an intuitive infotainment system and a wealth of driver assistance systems, but on the downside the EV6's skewed roofline affects cargo space and rear vision.
The Kia EV6's blend of performance, efficiency and practicality makes it worth a look if you're shopping for an electric car. However, it's one of the many new electric competitors that have emerged from the mechanically similar Hyundai Ioniq 5 to the Ford Mustang Mach-E and Volkswagen ID.4.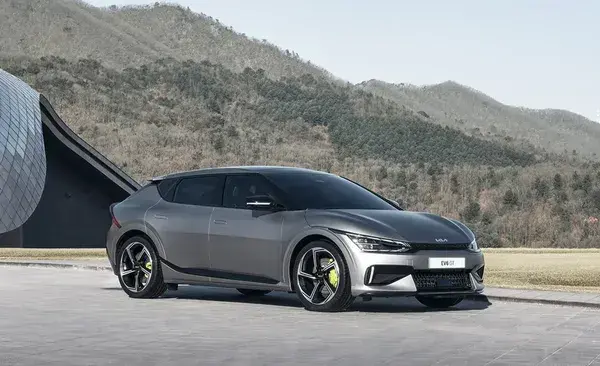 New Kia EV6 2022 specifications
Kia EV6 Review
The 2022 Kia EV6 doesn't have the reliability predicted by JD Power at this time
Kia EV6 Warranty
Kia covers the EV6 with a five-year/60,000-mile limited warranty, 10-year/100,000-mile battery and powertrain warranty
2022 Kia EV6 Performance
EV6 Motor
Drivetrain: standard rear-wheel drive; available all-wheel drive and Transmission: single-speed automatic
Base powertrain: electric motor and 58-kWh battery with a combined 167 horsepower and 232 miles of range
electric motor and 77.4-kWh battery with a combined 225 horsepower and 310 miles of range
two electric motors and 77.4-kWh battery with a combined 320 horsepower and 274 miles of range
2022 Kia EV6 Safety
Safety Features
Standard driver assistance features Rearview camera . Rear parking sensors . Blind spot monitoring with rear cross traffic alert . Forward collision warning with pedestrian and cyclist detection . Forward automatic emergency braking . Lane departure warning with lane keep assist . Highway Driving Assist (adaptive cruise control with lane centering) . Driver attention alert . Rear-seat alert (helps to prevent children and pets from being left inside vehicle) . Automatic high-beam headlights
Available driver assistance features Front parking sensors . Surround-view parking camera system . Remote Smart Parking Assist (remotely guides the vehicle in or out of a parking spot) . Blind spot camera (displays video feed of blind spot when turn signal is activated) . Highway Driving Assist II (semi-autonomous highway driving mode with automated steering, acceleration, and braking) . Head-up display
Kia EV6 2022 Price
The price of the new Kia EV6 for 2022 starts at $ 40,900, which is about the average for an electric SUV and is almost on par with competitors such as the Volkswagen ID.4 and Ford Mustang Mach-E in addition to the Kia Niro EV, and the price of the EV6 rises to $47,000 And $ 51,200 for the Wind and GT-Line models, respectively, and it goes up to $ 58,500 for the fully equipped version, and the Kia EV6 2022 for sale as new in the Arab countries at the following price
Kia EV6 price in Egypt
Kia EV6 2022 for sale new in Egypt, with a price starting from 755.80 EGP up to 1,081.03 EGP (This price is approximate because the model is not available)
New Kia EV6 trims
The 2022 Kia EV6 is available in four trims (Light, Wind, GT-Line and First Edition) and the Wind cross model is the best bet for most shoppers because it offers a larger battery pack than the EV6 and as a result longer driving ranges on a full charge of up to 310 miles
New EV6 colors
Kia EV6 2022 comes in the following exterior colors (Attractive Blue – Interstella Gray – Snow White)
Where Is EV6 Built ?
Kia builds EV6 in South Korea
2022 Kia EV6 Cons
There is no maximum storage space like other electric SUV
Front and rear view is not the best
2022 Kia EV6 Pros
Many safety features
Sophisticated and comfortable interior design
Extended driving range
The design is more elegant than a hatchback and not as bulky as a real SUV
Lots of room in the front and back
Fun to drive
2022 Kia EV6 Photos