The new Mitsubishi Outlander 2022 ranks in the middle of the compact SUV category. The Outlander features a high-quality interior, intuitive technical features, good handling and a large loading area, but it is held back by its weak engine
The redesigned 2022 Mitsubishi Outlander is a good compact SUV no matter how it's divided and impresses you with its balanced ride and handling, luxurious interior and user-friendly infotainment system
Combined with a wide range of standard safety systems, it also has a large load space and its four-cylinder engine delivers respectable fuel economy.
The Outlander is also one of the few small SUVs with third-row seats which makes it possible, but not comfortable, to seat seven passengers.
The only major hit against the Outlander is its powertrain. That 181-hp engine and continuously variable automatic transmission can drive the Outlander around town just fine but the coupling is much less enthusiastic at highway speeds.
The 2022 Mitsubishi Outlander is definitely worth a look if you're shopping for a compact SUV that offers upscale design, plenty of standard features and seven-seat practicality yet still costs about the same as its five-seat competitors.
But you may want to first think and study about competitors like the 2022 Honda CR-V or Mazda CX-5, but if fast acceleration is a top priority, the Outlander lacks this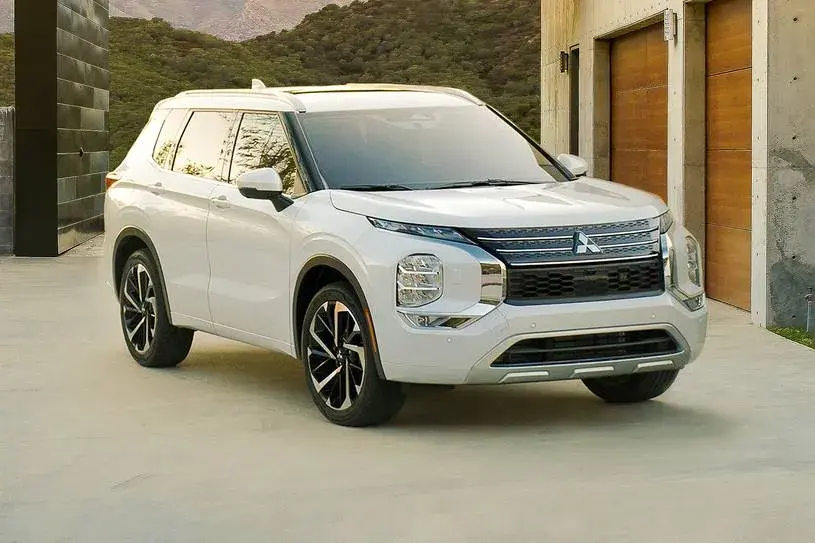 New Mitsubishi Outlander 2022 specifications
Mitsubishi Outlander Review
Mitsubishi Outlander 2022 does not currently have the confidence rating expected from J.D Power
Mitsubishi Outlander Warranty
Mitsubishi covers the Outlander with a 5-year/60,000-mile limited warranty and a 10-year/100,000-mile powertrain warranty
2022 Mitsubishi Outlander Performance
Outlander Engine
2.5-liter four-cylinder with 181 horsepower and 181 pound-feet of torque standard front-wheel drive and available all-wheel drive , Transmission: continuously variable automatic (CVT)
2022 Mitsubishi Outlander Safety
Safety Features
Standard driver assistance features : Rearview camera . Rear parking sensors . Blind spot monitoring . Rear cross traffic alert . Front and rear collision warning . Pedestrian detection . Automatic emergency braking . Lane departure warning . Automatic high-beam headlights . Driver drowsiness monitoring . Rear seat alert
Available driver assistance features:Front parking sensors . Surround-view parking camera system . Adaptive cruise control . Lane keep assist . Road sign recognition . Head-up display
Mitsubishi Outlander 2022 Price
The price of the new Mitsubishi Outlander for 2022 starts at $ 25,795, and this is the average for the compact SUV category, and the price rises to $ 35,345 for the SEL Launch version and the Mitsubishi Outlander 2022 for sale new in the Arab countries soon
Mitsubishi Outlander 2022 price in UAE
New Mitsubishi Outlander for sale in the UAE, with a price starting from 79,500 to 153,000 AED, and comes in seven categories (GLX 5-Seater Basic, GLX 7-Seater Mid, GLX 7-Seater High, GLS 7-Seater High, GLX 7-Seater Super High, Both PHEV S-AWD Baseline and PHEV S-AWD Topline are powered by either a 2.4-liter four-cylinder engine with 165 or 236 hp or a 3.0-liter V6 with 227 hp
New Outlander colors
Mitsubishi Outlander 2022 is available in the following exterior colors (Ruby Black Pearl – White Pearl – Alloy Silver Metallic – Mercury Gray Metallic – Diamond Red – Brown Quartz Metallic)
Outlander weight and dimensions
Mitsubishi Outlander 2022 comes with a length 4709 mm, a width 1897 mm, a height 1744 mm, a wheelbase 2705 mm, and a total weight ranging from 1629 to 1725 kg
Where was the new Outlander Built ?
Mitsubishi Motors makes 2022 Outlander in Japan
2022 Mitsubishi Outlander Cons
slow acceleration
Voice controls are not very helpful
The third row of seats is narrow
2022 Mitsubishi Outlander Pros
Spacious first and second row seats
Many standard technology and safety features
Comfortable driving
Luxurious cabin materials
Large space
2022 Mitsubishi Outlander Photos
(Click on the images to view in full size)