The new 2022 Volkswagen ID.4 is an all-electric SUV that offers balanced driving and spacious adult-friendly seats but some of the infotainment and cabin controls are very unintuitive
The Volkswagen ID4 2022 is a good electric SUV that has a fairly long driving range and the ID.4 has well-balanced driving dynamics and quick acceleration from a stop In addition to that, the cabin has spacious seating areas and plenty of cargo space.
On the other hand, the Volkswagen infotainment system is operated via a touch screen and touch buttons without actual controls, which can make it difficult to adjust settings while driving.
The Volkswagen ID.4 is a well-balanced electric car that has good driving range, comfortable ride and decent agility however there are many other competing electric cars that you should take a look at.
Both the Ford Mustang Mach-E and the Tesla Model Y have greater fuel efficiency and a sportier ride than the Volkswagen ID.4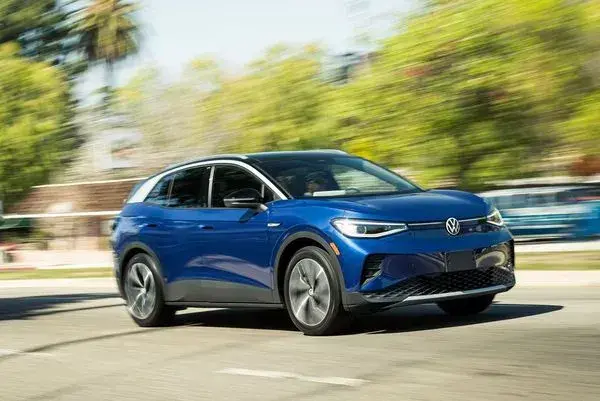 Specifications of the new Volkswagen ID.4 2022
Volkswagen ID.4 review
The 2022 Volkswagen ID.4 didn't get the reliability score predicted by J.D. Power
Volkswagen ID.4 Warranty
ID.4 comes with a basic four-year / 50,000-mile warranty and an eight-year / 100,000-mile battery warranty
2022 Volkswagen ID.4 Performance
ID.4 Motor
Base powertrain: electric motor and 82-kWh lithium-ion battery with a combined 201 horsepower and 229 pound-feet of torque
Available powertrain: two electric motors and 82-kWh lithium-ion battery with a combined 295 horsepower and 339 pound-feet of torque
Drivetrain: standard rear-wheel drive; available all-wheel drive and Transmission: single-speed automatic
2022 Volkswagen ID.4 Safety
Safety Features
Standard driver assistance features Rearview camera . Forward collision warning . Forward automatic emergency braking . Pedestrian detection . Blind spot monitoring . Rear cross traffic alert . Lane departure warning . Lane keep assist . Adaptive cruise control . Front and rear parking sensors . Automatic high-beam headlights . Traffic sign recognition . Automatic highway driving assist . Rain-sensing windshield wipers
Volkswagen ID.4 2022 Price
The price of the new Volkswagen ID.4 for 2022 starts at $ 40,760, which is among the highest starting prices in the electric SUV segment. The price of the Pro S category starts at $ 45,260 and both models come with the same single engine and rear-wheel drive settings, but you can add an all-wheel drive system Dual engines for an additional $3,680, and a new Volkswagen ID.4 2022 for sale in the Arab countries soon
New Volkswagen ID.4 trims
The 2022 Volkswagen ID.4 comes in two trims (Pro and Pro S) and both models come as standard with an 82 kWh battery, one electric motor and rear-wheel drive. A more powerful two-wheel drive setup is also available for $3,680
Volkswagen ID.4 trim ( Pro )
The $40,760 Volkswagen ID.4 Pro comes standard with a 10-inch touchscreen, Android Auto, Apple CarPlay, seven-speaker stereo, four USB ports, Bluetooth, HD Radio, Wi-Fi hotspot, and navigation , voice recognition, wireless device charging and digital instrument cluster
Other standard features include fabric upholstery, six-way manual-adjustable front seats, a heated, leather-wrapped steering wheel, keyless entry, dual-zone automatic climate control, and 10-color ambient interior lighting.
Several active safety features are also standard, such as a rearview camera, forward collision warning, forward automatic emergency braking, pedestrian detection, blind spot monitoring, rear cross traffic alert, lane departure warning, lane assist, and adaptive cruise control. Front and rear sensors, traffic sign recognition, automatic highway driving assistance, and rain-sensing windshield wipers
Volkswagen ID.4 trim ( Pro S )
The Volkswagen ID.4 Pro S starts at $45,260 and adds faux leather upholstery, a 12-inch touch screen, panoramic roof, 12-way power-adjustable front seats with memory settings, power-folding exterior mirrors, and a central armrest Rear seat and hands-free power tailgate, adjustable load floor, 30-color ambient interior lighting, and adaptive headlights
New Volkswagen ID.4 colors
Volkswagen ID.4 2022 is available in the following exterior colors (Ice White Metallic – Moonstone Gray – Black Metallic – Shiny Silver)
Where Volkswagen ID.4 Built ?
Volkswagen builds ID.4 in Germany
2022 Volkswagen ID.4 Cons
Some of the controls can be difficult to operate
Low-quality plastic in the cabin
Unintuitive infotainment systems
2022 Volkswagen ID.4 Pros
Lots of useful security and technology features come as standard
Ample interior space with plenty of storage for small items
Impressive real range and electric efficiency
balanced ride
Powerful Powertrain
2022 Volkswagen ID.4 Photos
(Click on the images to view in full size)